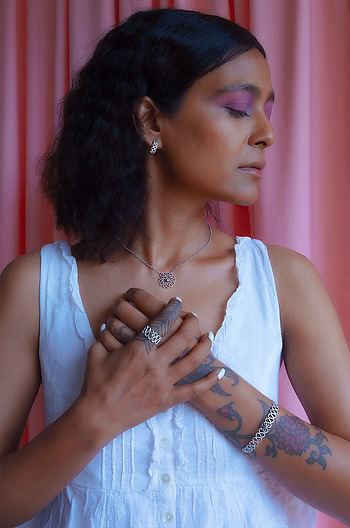 Only 4 Left!
Nagmori Inspired Hinge Bracelet in 925 Silver
Shop above Rs.3,500 to get an additional 10% off
₹3,240 ₹3,600 (10% OFF)
Silver Tribal Hinge Bracelet. Crafted in 925 Silver with an Oxidised Finish. Uniquely handcrafted, no two pieces are exactly alike! Nagmori is a serpentine silver armlet popular among Balangir, Sonapur Taluk, Tarbha communities of Orissa and Madhya Pradesh. It is a widely adapted tribal jewellery form.
Weight : 9 g (approx.)
Size: 2.4 Anna (Not Adjustable) | Motif Length: 2.5 Inches | Motid Breadth: 0.37 Inch