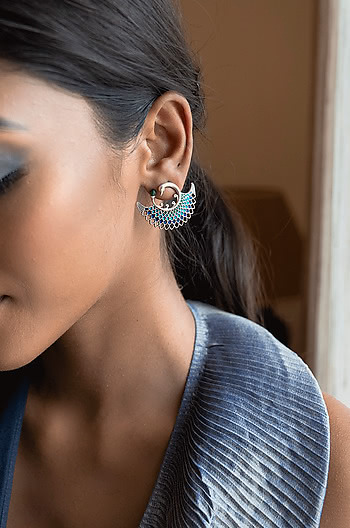 Owning My Perfectionist Tendencies Earrings
Issa Surprise Sale: Flat 10% Off Silver & Brass Faves.
₹2,790 ₹3,100 (10% OFF)
Silver Enamelled Stud Earrings with Green Quartz Accents. Crafted in 925 Silver with a Dull Oxidised Finish. Uniquely handcrafted, no two pieces are exactly alike! 'Own Your Plumes' is a celebration of your unique style and expression. We've borrowed the flared forms and iridescent tones directly from the Peacock's one-of-a-kind plumage and its uninhibited movement.
Weight : 10 g (approx.)
Length: 1 Inch | Breadth: 1.39 Inches | Stone Size: 3 mm