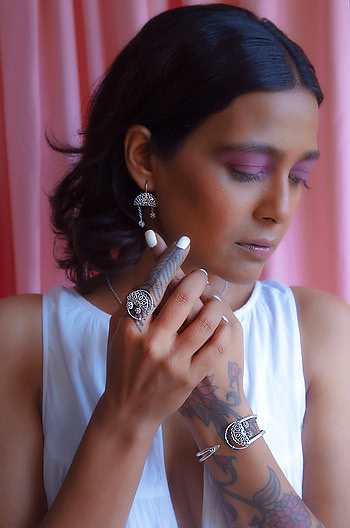 Only 5 Left!
Phuli Inspired Ring in 925 Silver
Birthday Sale : Get this now at 15% OFF.
₹1,530 ₹1,800 (15% OFF)
Silver Tribal Ring. Crafted in 925 Silver with an Oxidised Finish. Uniquely handcrafted, no two pieces are exactly alike! The nose jewellery worn all over India has renditions from the simple lavang, clove, nath to Phuli - the elaborate stud. This set is inspired by the Bhil tribe of Rajasthan who wore the Phuli after marriage for good health and fertility.
Weight : 3 g (approx.)
Size: 12 (Fits well between 10 to 14) | Motif Length: 0.95 Inch | Motif Breadth: 0.92 Inch