Mogra, or Jasmine, as it is more popularly known in various parts of Asia, has the sweetest fragrance you will find. It is an unforgettable scent, and women wear them in their hair or as a garland around their necks. Some even wear these flowers twined around their wrist. They have delicate white petals, and it is rare to see a bride or a wedding ceremony without mogra flowers worn as hair accessories. It symbolizes purity and harmony and always brings joy to the wearer. Is it any wonder that these flowers can bring out the creativity in a jeweller? Mogra-inspired jewellery has all the elegance and style every woman would want in her collection. With the various designs available, they have become popular for everyday wear, office wear, and any and every ceremony that is part of any wedding, including Sangeet, Mehendi, Haldi, etc. Moreover, Mogra jewellery suits ethnic wear, western wear, and indo-western outfits.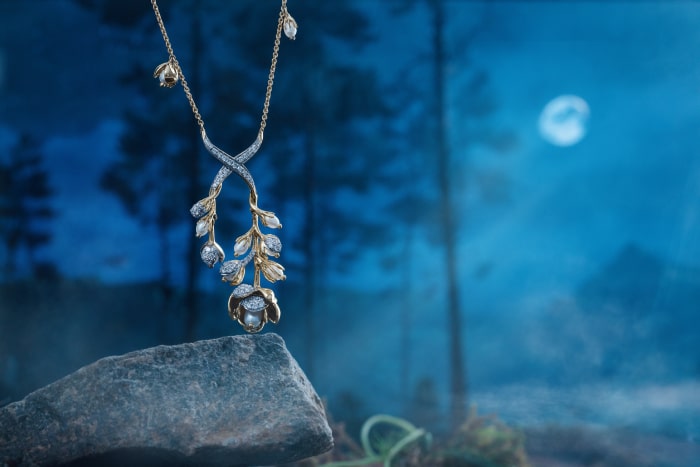 While mogra-inspired jewellery is designed with the modern woman in mind, women of all ages love to wear them in earrings, pendants, bangles, bracelets, and rings. CaratLane has a unique collection for EVERY woman. You are also just in time to bring in a part of the Mogra collection home before Navratri and Diwali and enjoy the festivals with a couple of new pieces. You will find them in gold, with diamonds and rice pearls, or other gemstones, and they can be worn for the sheer joy of wearing your favourite Mogra flowers. And to give you an idea of what you can wear, here are a few choices.
Mogra-inspired earrings
Earrings can be more than a few grams of metal and a few diamonds or gemstones. They can be flowers. That's right, earrings like the Mehan Pearl Drop Earrings or the Moiz Pearl Drop Earrings can bring Mogra flowers right to your ears. These earrings are made in yellow gold and have pearls and diamonds in them, adding an element of glamour.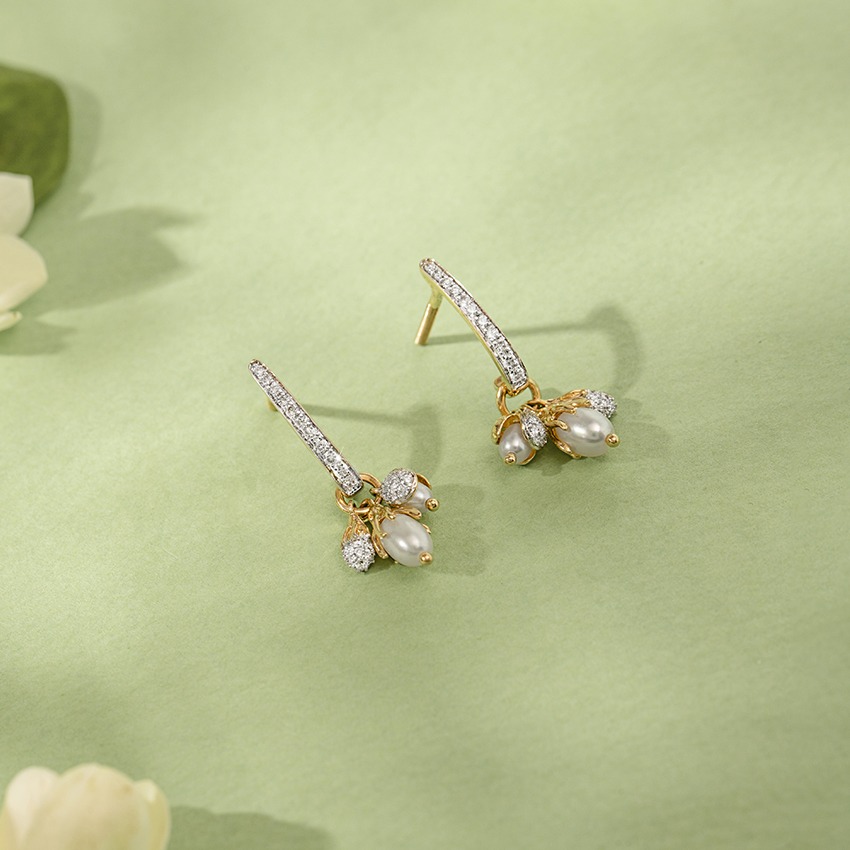 Mogra-inspired necklaces and pendants
You can wear Mogra flowers around your neck, except now it has gold, pearls, and diamonds. Stringing flowers together is one thing. But stringing them along a gold chain with gems requires skill and creative flair. Wearing a necklace that sprang from the beautiful Mogra flower is an opportunity you wouldn't want to miss. The beauty of these designs is that you can wear them with Indian and Western wear, and they will shine equally brilliantly. Either of these necklaces, Mulani Pearl Necklace or Munnar Pearl Necklace, would be an excellent choice to wear whatever the occasion.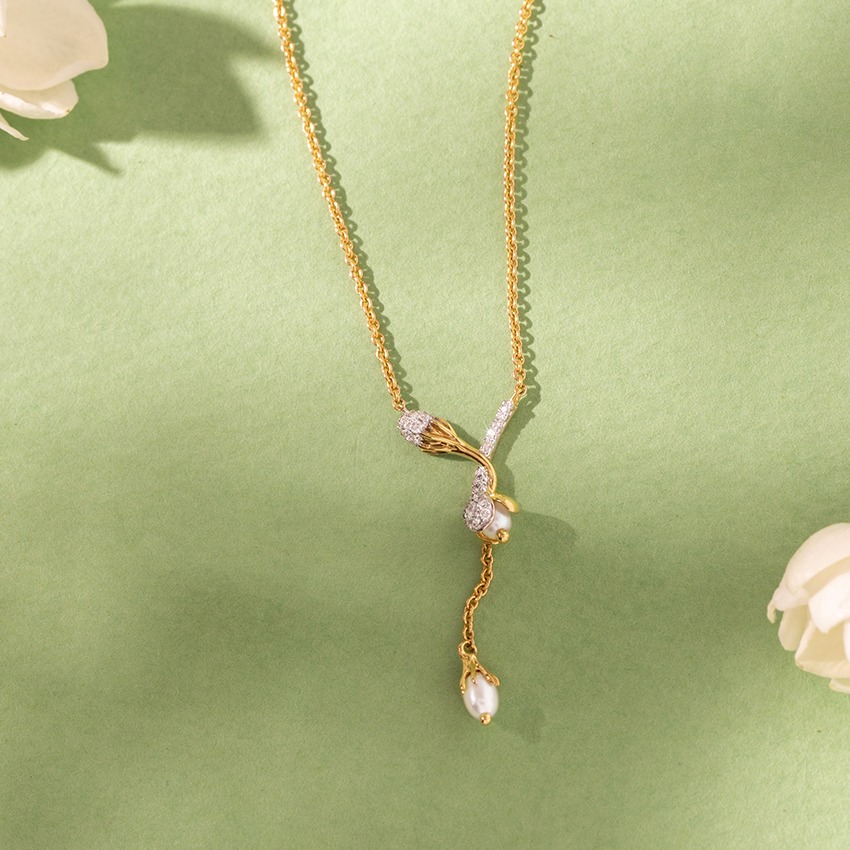 Wear Mogra designs around your wrist
Whether it is a bangle or bracelet, they will be your pride and joy in your collection. Let's start with bangles. Bangles, inspired by Mogra, can be an incredible addition to your jewellery. The Swaying Pearl Bangle has the requisite pearls and diamonds that are just like flowers around your wrist. Bracelets like the Malla Pearl Diamond Bracelet or the Mohana Pearl Bracelet make exquisite accessories to wear. A glimpse of the pearl surrounded by diamonds in a flower-like setting is more than enough to bring the beauteous Mogra to mind.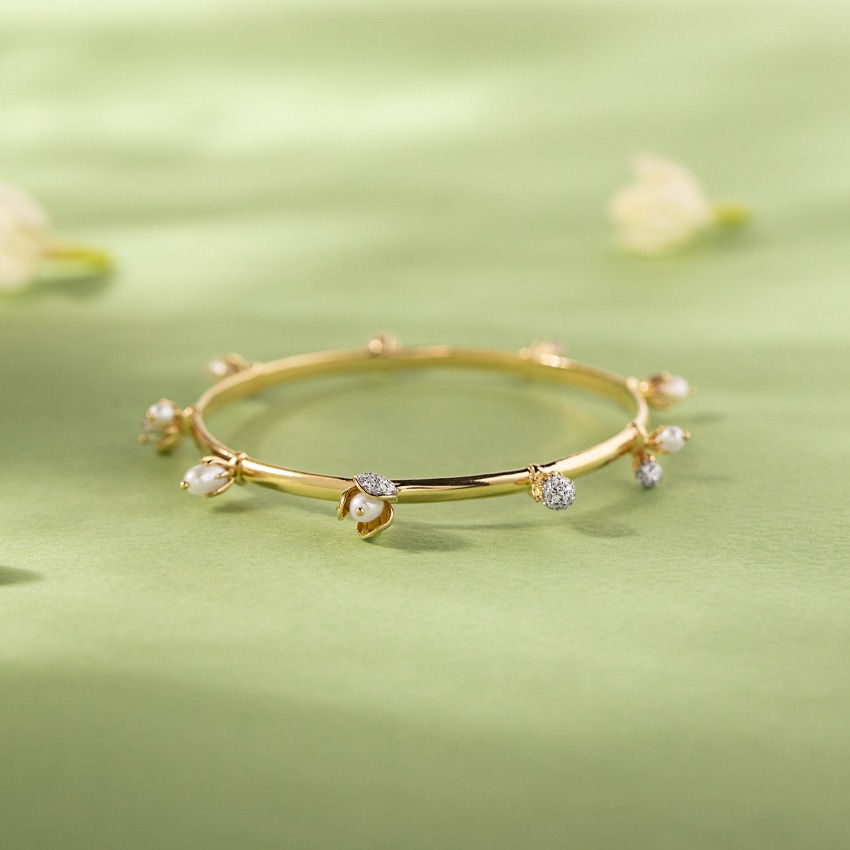 Mogra-inspired rings
Let Mogra-inspired rings adorn your fingers. Give them as a gift to your loved ones. You won't go wrong with the design choice because it is like placing a flower around your finger. Designs like these can be simple and elegant or elaborate and intricate. The Pearly Twig Ring is an excellent example of wearing a Mogra ring all the time. So is the Meher Pearl Ring. 
Mogra-inspired jewellery features rice pearls with stunning diamonds micro-set like a flower with its petals. The designers use 3D printing to bring out the delicate curves of the petals; some of them are buds, and some are in full bloom. Mawlik Pearl Stud Earrings show you Mogra in full bloom, whereas you have a budding Mogra in the Meghraa Pearl Drop Earrings.
The Mogra collection will make a perfect choice for all those everyday moments and all festive occasions because they are versatile and can give you any look you like, classy, fashionable, and chic. They are timeless and make a statement regardless of anything you wear. CaratLane's Mogra-inspired designs are both stylish and contemporary, and perfect for those who want to make a statement with their jewellery, be it elegant and sophisticated or subtle and chic. If you are looking for a new piece of jewellery to add to your collection, or if you are simply looking for some inspiration, be sure to check out the Mogra jewellery collection at CaratLane. The range of designs is aplenty, and you may want more than one piece of jewellery for your favourite collection.