The CaratLane Story
Who Are We
CaratLane was founded in 2008, with the objective to make beautiful jewellery accessible, affordable and forever wearable. After speaking to hundreds of women across the country, we came to find that there was a common dilemma women faced - picking between expensive jewellery for special occasions, and everyday jewellery that was of inferior quality and was not keeping pace with their changing lifestyle. CaratLane was founded, to give women access to modern, fine jewellery, that was also wearable everyday. Today CaratLane is India's largest omni-channel jeweller. CaratLane also has over 165 retail stores across 66+ Indian cities.
Our Mission
Our mission is to make beautiful jewellery accessible. Jewellery that not only makes a woman look beautiful but also make her feel beautiful and loved.
Our Promise
We started our company on three simple premises:
Our style is relentlessly modern, yet intensely respectful of traditions.
We always look for better and newer ways to do things; from the designs that we make to the experiences that we deliver.
We are open in our interactions with our customers. Our prices and policies are always transparent.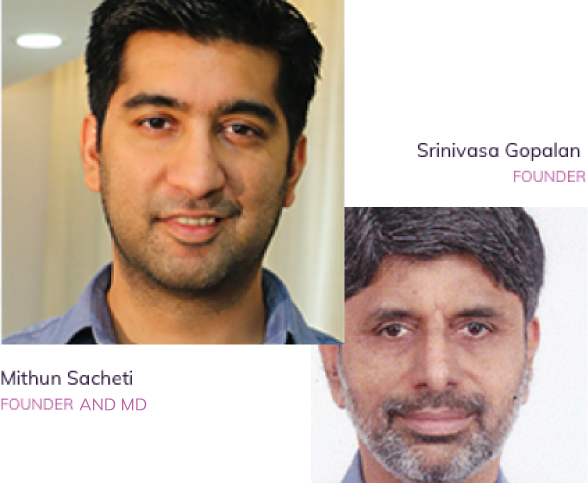 The Beginning
CaratLane was founded by Mithun Sacheti and Srinivasa Gopalan with a refreshing and courageous objective – to make beautiful jewellery accessible, affordable and forever wearable.
Our Team
Our roots are digital, our passion is contagious and most importantly, our people are creative, inspiring, and dedicated!
Mithun Sacheti

Founder and MD

Gurukeerthi

Co-Founder and SVP Technology

Avnish Anand

Chief Operating Officer

Atul Sinha

SVP Retail

Aakrosh Sharma

SVP Merchandising
CaratLane Advantage
When you shop at CaratLane, you can always be assured of the highest quality standards. Every piece of jewellery is meticulously crafted with the utmost care. It goes through a thorough quality check and is then taken through certification.
"I got this necklace as my wedding gift and instantly loved it. It is literally the only accessory I wore on my entire honeymoon. I love how delicate and beautiful it is."
- Tanya Gupta via Instagram
"The six of us wanted to celebrate our year of togetherness with something which will stay with us forever. So, all of us bought this beautiful ring which is the perfect symbol of our friendship and is just so classy!"
- Shilpa Praveen via Instagram
"My fiance wanted to give me something classic and unique. He searched everywhere, literally half of the Chandigarh for the unique design. Our search was complete when we entered CaratLane store. My fiance selected the diamond and I selected the design. I love it because it is designed just for me."
- Pooja Rajpoot via Instagram
Read More
Making Process
Our designs always come with a unique CaratLane touch through innovative designs or techniques, or both. Uncover our jewellery-making process, from the inspiration to the final outcome.