Ugadi is a time of new beginnings, fresh starts, and positive energy, and it is only fitting to celebrate this occasion with beautiful and elegant jewellery. Ugadi, the Telugu New Year, is a festival that marks the beginning of a new year and is celebrated with great joy and excitement in Andhra Pradesh, Telangana, and Karnataka. People from these parts of India have migrated to all corners of the world, and geography notwithstanding, they mark this day as special and enjoy Ugadi wherever they live. With online shopping and secure shipping, everyone can access our jewellery collection. 
Our jewellery store has an extensive collection of jewellery that is perfect for the festive season. We have something unique whether you're looking for something traditional or modern.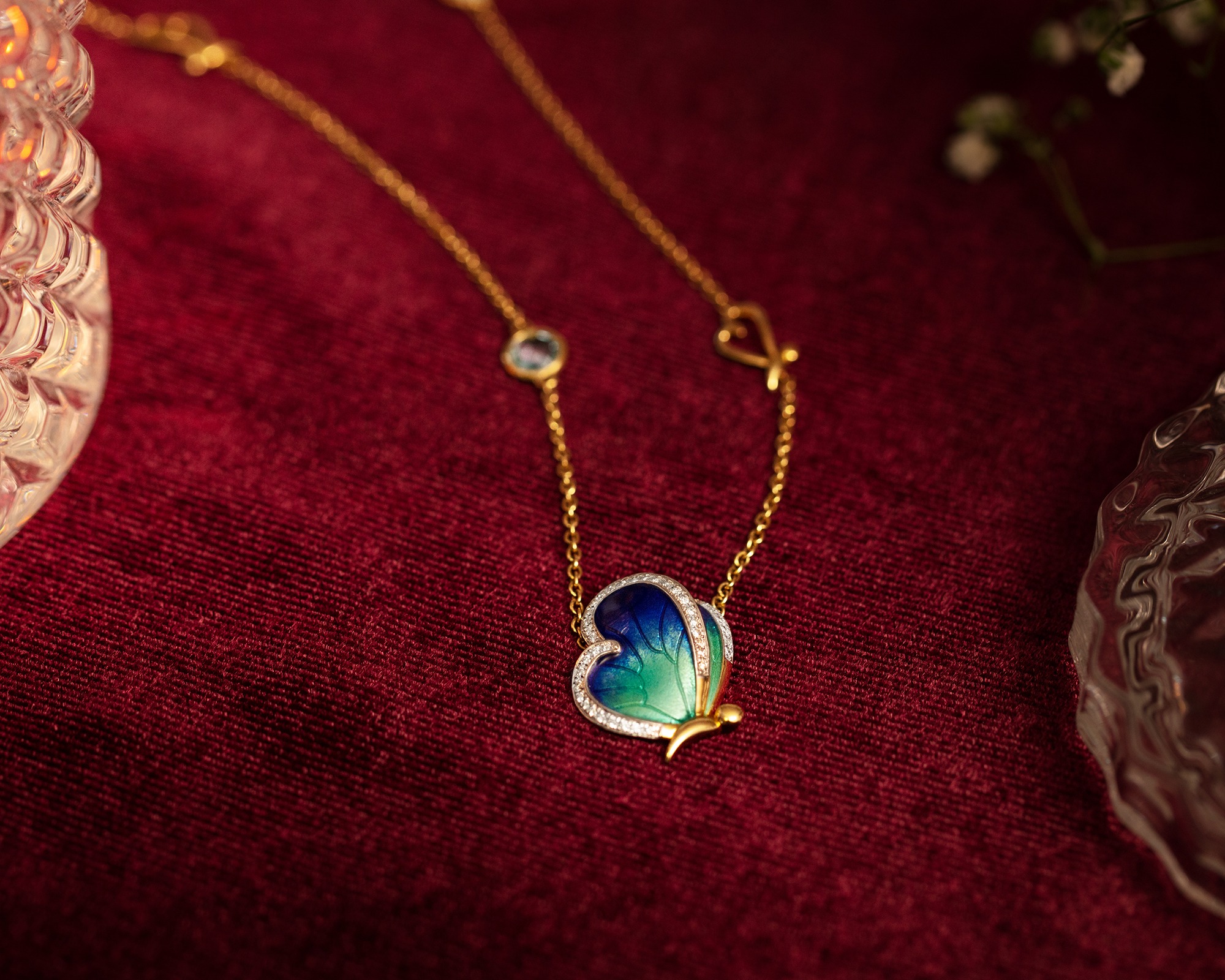 One of our most renowned collections is our traditional gold jewellery. Our gold jewellery is crafted with the utmost care and attention to detail, making it the perfect choice for any special occasion. Our collection features everything from simple and elegant designs to intricate and ornate pieces that will make a statement.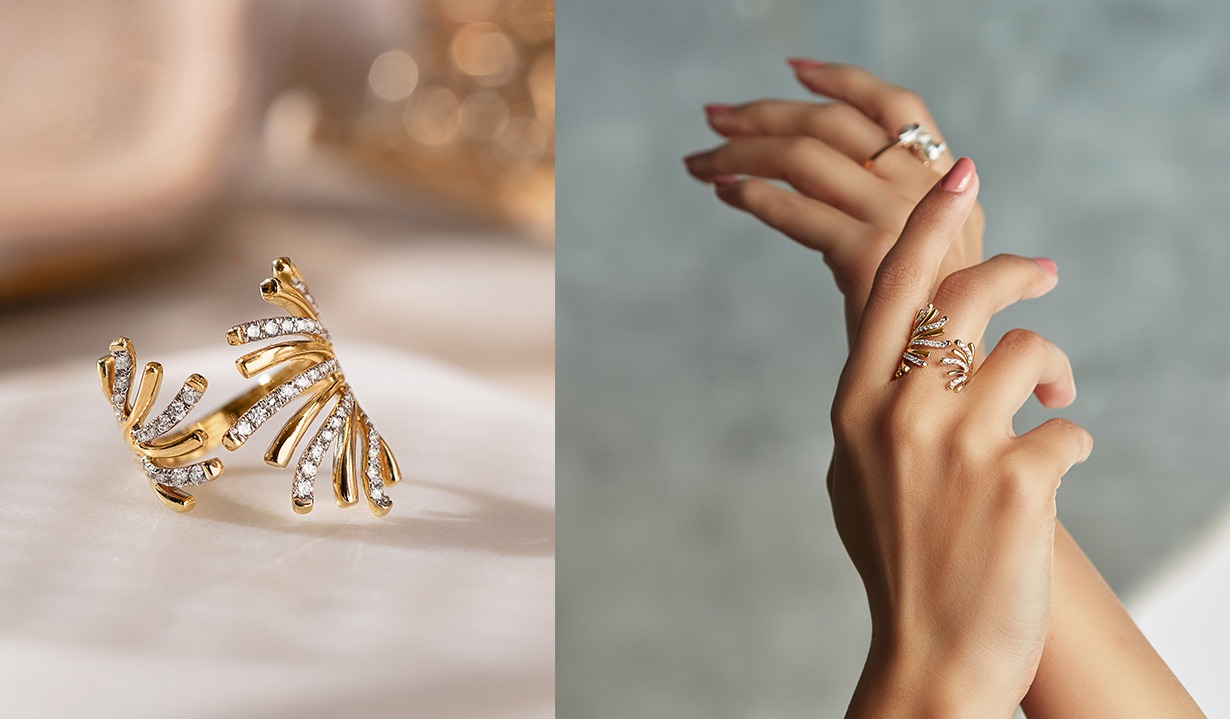 Glow with our gold jewellery
Gold is considered the most auspicious of metals and gold jewellery is never overlooked when accessorising for a festival or family function.
Gold drop earrings and ear jackets
You will want to wear your best outfit and match it with the beautiful Whimsy Gold Drop Earrings to usher in Ugadi this year. Nothing is more celebratory than a few diamonds and pearls in yellow gold in the latest design. It is also the perfect time to wear the Triana Gold Ear Jackets in yellow gold if you want a more sophisticated look. These stud earrings will go well with any ethnic or western outfit.
Gold necklaces
You can't do without a gold necklace on this auspicious day. A simple but elegant gold necklace will make you feel all dressed up, and wearing gold is particularly significant. Add the Dhriti Gold Necklace or the more edgy Hexagonal Ripple Gold Necklace, and you will be ready for celebrations – simple or elaborate.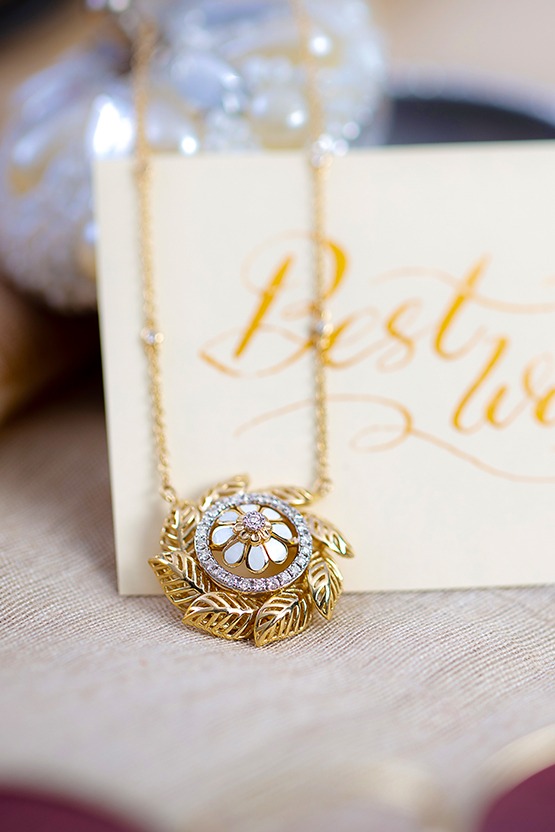 Gold bangles and bracelets
How do you top your favourite earrings and necklace? By wearing a dazzling gold bracelet or a bangle or two! The Anna Hexagon Gold Bangle or the Chloe Criss-Cross Gold Bangle will do their job as arm accessories while performing your puja and serving Ugadi sweets to your friends and family. 
However, if you prefer bracelets over bangles, you have infinite choices. Add the Multi Circlet Gold Bracelet or the Kira Cutout Gold Bracelet, and you will outshine everyone.
Glitter with our diamond jewellery
We also have a range of diamond and platinum jewellery for those who prefer something a little more modern. Our diamond and platinum jewellery is perfect for adding a touch of glamour to your Ugadi celebrations. 
Diamond pendants
Ugadi is the perfect occasion to change your everyday necklace to a diamond-studded one. You will elevate your everyday look by replacing your usual pendant with the Breezy Drop Diamond Pendant or the Tendril Fern Diamond Pendant.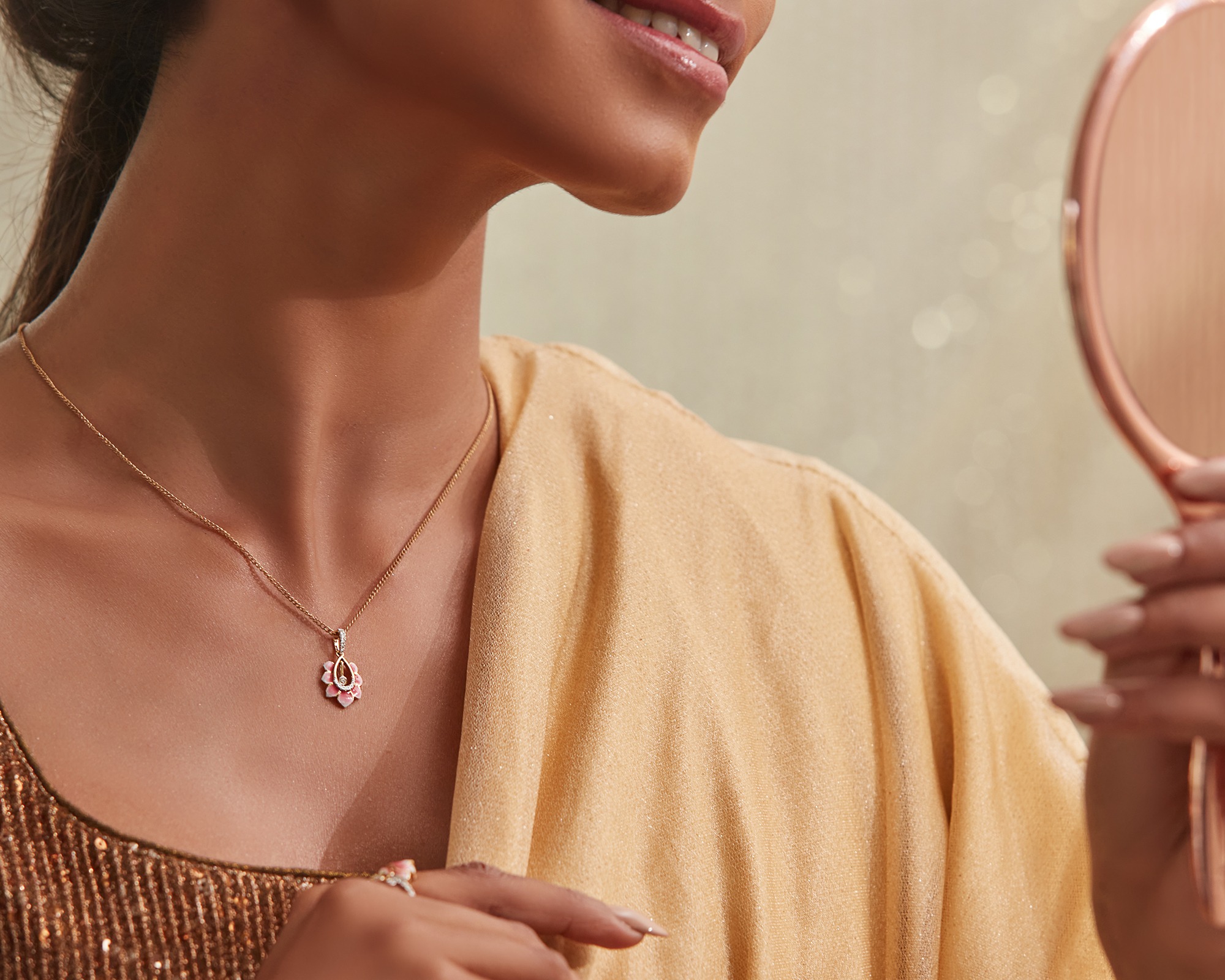 Diamond and gemstone rings
A festive look is only complete with a brilliant diamond or gemstone ring. After all, your hands must be as decorated as the rest of you. Luckily for you, we have the most artistically designed rings ideal for the festivities. Try on the Rosy Drop Gemstone Ring in yellow gold or the Sparkling Diamond Vanki Ring in rose gold.
Go for the sleek look with our platinum collection
In addition to our traditional and modern jewellery collections, we have a range of platinum jewellery. Our platinum jewellery collection is ideal for those looking for a touch of elegance to their Ugadi celebrations. From simple and understated designs to bold and intricate pieces, our platinum jewellery collection has much to offer.
You can go for the whole platinum look, starting with earrings. Even the simplest of stud earrings or hoops made in platinum will make a statement. The Stylish Quad Platinum Stud Earrings give you a minimalist yet chic look. So do the Minimalist Duo Platinum Drop Earrings. Pair it with the Stellar Beaded Platinum Necklace and the Nova Linked Platinum Bracelet, and you are all set for Ugadi festivities. You can also add the Eros Platinum Ring without going over the top to achieve a chic and elegant look.
We at CaratLane, understand that Ugadi is a time of celebration and new beginnings. We also understand what women like wearing to work, party, or celebrate festivals. That's why we have carefully curated our collections to ensure something for everyone. Whether you're looking for traditional gold jewellery or something a little more modern, you have a chance to explore the Weave, Royal Romance, Mandala, Peacock, Lotus, Tango, and Blaze collections, to name a few. Each of these collections has infinite possibilities to create your style and indulge your heart's desire.
So why wait? Visit CaratLane today and browse our collection of elegant jewellery. Ugadi is the perfect time to take advantage of our festival offers. Our friendly and knowledgeable staff will be happy to help you find the ideal piece to add a touch of sparkle to your Ugadi celebrations.
Shop Related Jewellery Designs
Couple Rings, mukku pudaka gold, red stone earrings, black stone earrings, unisex rings, 2 gram gold ring, gold kangan, leaf earrings, topaz ring, trishul pendant, yellow sapphire ring for men, eternity band, second top earrings, Fancy Earrings, Anniversary Rings, white stone earrings, swastik pendant, pink diamond ring