Who doesn't love Navratri and the festive atmosphere it brings? The exciting part of it is that we can rejoice for nine days! Each day can bring on a new look and style and a golden opportunity to get all dolled up with different accessories. Naturally, not everyone will have a vast collection of jewellery. So smaller collections, mixing and matching them with the outfit, and the sheer pleasure of embracing each day with unique looks make Navratri one of the most anticipated festivals. 
Have you started your collection already? Even those of you who already have an impressive collection may want to add something new this year. After all, new designs come for a reason! And there is no reason why jewellery shopping has to be a bother. No more commuting, no need to stand three-deep in jewellery stores, and no need to spend way too much time on the shopping expedition! Stay home, browse the catalogue, do a virtual try-on, and place the order.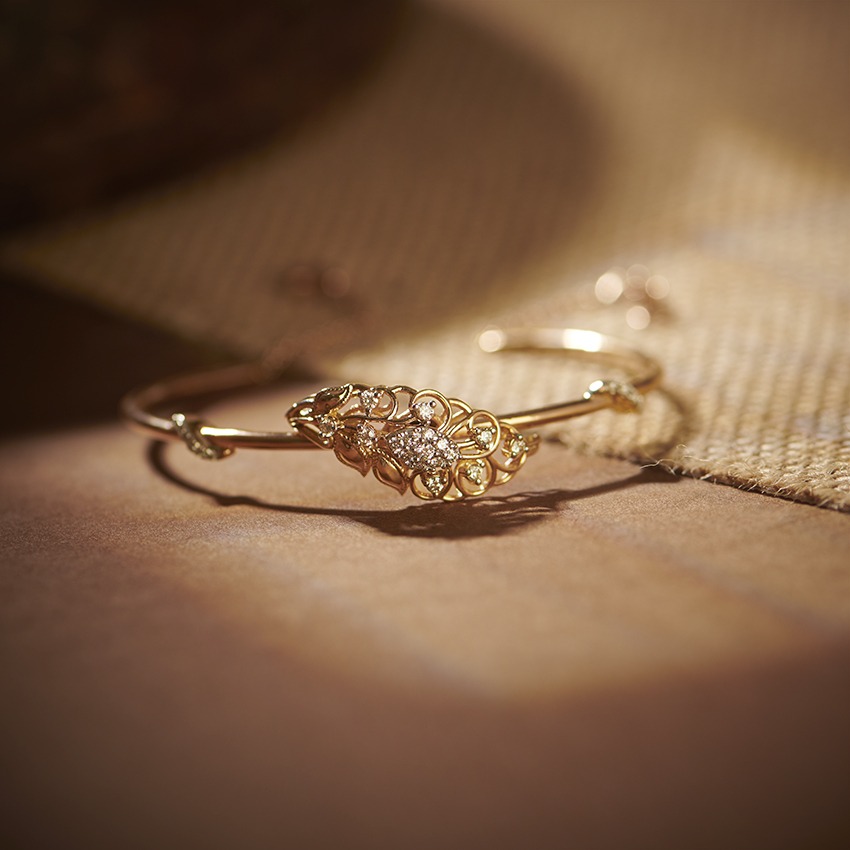 Here's what you can gaze at before picking out your favourite pieces. Let's start with bangles because Navaratri is not the same without colourful bangles. 
Dance the Garba wearing bangles and bracelets
You can choose a diamond-studded bangle and wear it alone, or you can buy a pair of plain gold bangles and add any number of colourful glass bangles. You can change the colour to match the outfit and have a new look each day. You can wear as many bangles as you want, especially if you are wearing a traditional Indian outfit like a saree or lehenga. The single diamond bangle like the Aarini Radiant Diamond Loha Bangle will go with both traditional outfits and a modern outfit in a western style. So will the Chloe Criss-Cross Gold Bangle.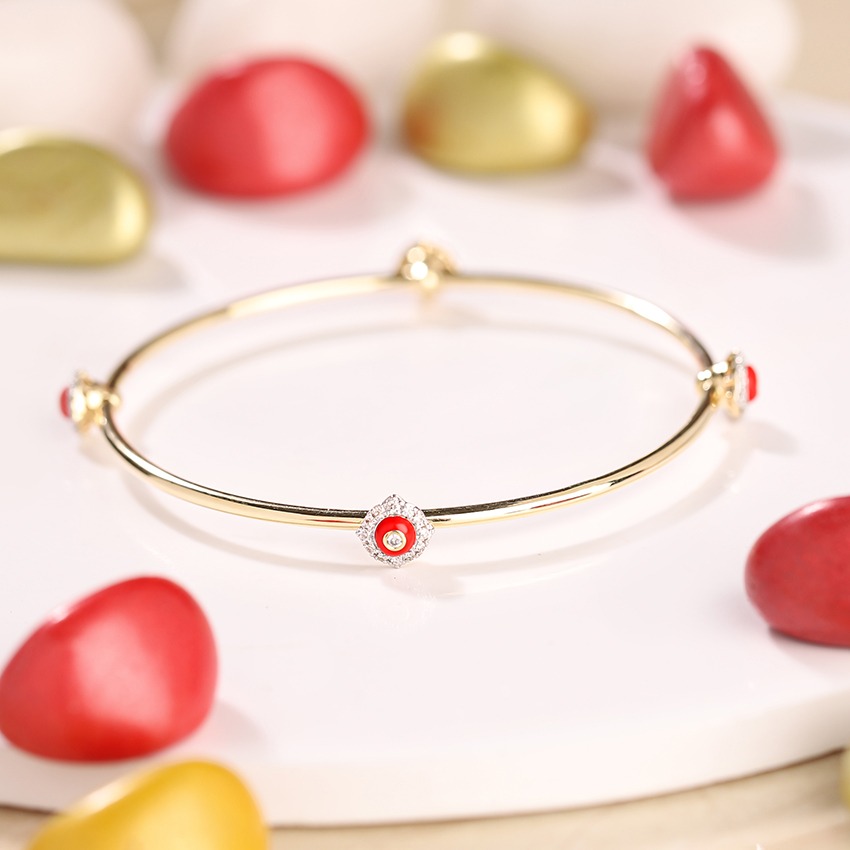 A bracelet can also make a beautiful addition to your Navratri outfit, be it a cutout bracelet or one with diamonds and gemstones. Gemstones lend a little colour to the jewellery, and it is bound to add to the festive look. You can wear the Najat Diamond Bracelet in rose gold, and you will have all the grandeur you need. The Victory Blossom Diamond Bracelet is a sleek-looking piece that will go with any outfit.
Pearls and Kundan jewellery are always a hit during Navratri. They add luminosity to the celebrations and take the festival to a whole new level. They are versatile and come in various designs, both contemporary and traditional. Choosing the right one to match the outfit becomes simpler if you have these in your collection. You can wear the Jete Pearl Bracelet and look simple and elegant at the same time as you dance the Garba.
Wouldn't you want to sparkle during Navrathri?
You can do that with diamond-studded jewellery. Whether it is a pair of diamond stud earrings, like the Kylie Glorious Pearl Stud Earrings, or Sui Dhaga earrings, like the Iris Diamond Sui Dhaga Earrings, they are perfect for Navratri. You can wear the simplest of lehengas and still look most glamorous wearing a few diamonds.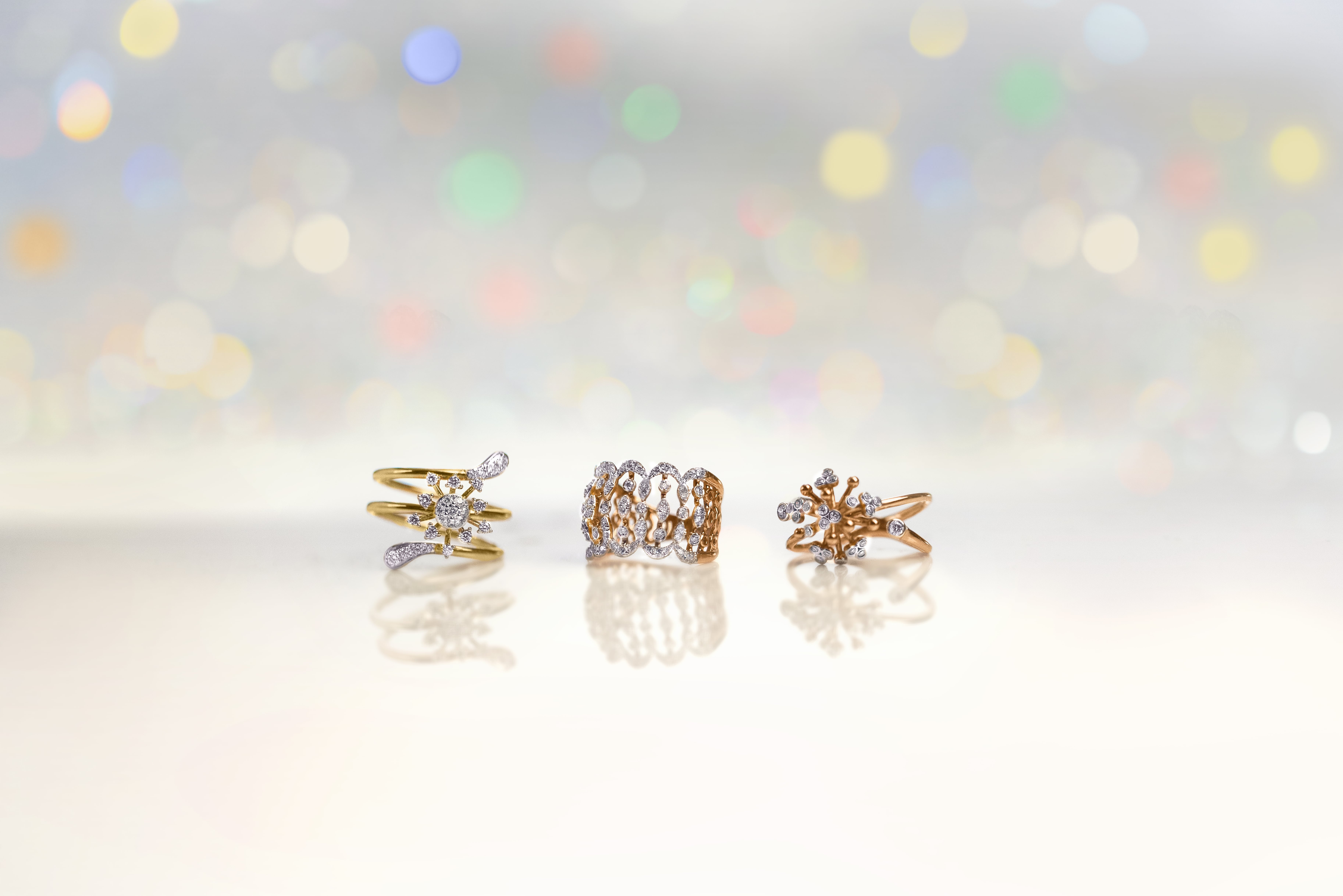 How about Chand Bali earrings to add to your festive look? They seem to have been created just for such festival days. The Ida Swing Gemstone Chand Bali earrings are a must-have in the Navrathri Navratri.
Shine in all your Navratri splendour
The Corina Regal Diamond Necklace is a unique design, again suitable for Indian and Western outfits. Typically, Navratris brings out all of our traditional outfits. But, some of them are a perfect blend of both, suitable for the contemporary woman. The Feroza Diamond Necklace is a classic and can be dazzling to wear when you go visiting friends and family to celebrate Navratri together. 
The most colourful of Navratri jewellery is Meenakari. They are most intricately designed, and a Meenakari set can be one of the most desirable collections and can be worn on any one of the nine days. Do you know you can be brilliantly colourful wearing one-of-a-kind silver jewellery? Silver Enamelled Stud Earrings with Green Quartz Accents and the Silver Enamelled Collar Necklace make a perfect set perfect for any occasion, only more so during Navratri.
You would think jewellery is jewellery, and Navratri doesn't have to make wearing them more significant. However, the truth is that we look forward to these festival days to take out our best traditional wear and our jewellery collection. After all, Navratri comes once a year, and most Indian households take each of the nine days seriously. While Vijayadashami, the tenth day, is the culmination of the festival, it is also a beginning. You would want an extra shine to add to your finery. Beat the crowds and start early. CaratLane with all new designs for this Navratri awaits.