You may think that there are only a few accessories that are suitable for a party. You may also have some idea of what you will want to wear on different occasions. Some parties require formal gowns, and other parties will be cool with jeans and a top. It can be a birthday party for a schoolmate or an office party. Whatever the occasion, you can never have enough earrings. Earrings are some of the first gifts that a little girl receives. She treasures and holds on to them for a long time. Some of us even keep them for our daughters. But soon enough, little girls grow up and want to choose their own jewellery. Girls in high school and college like to wear as many different earrings as possible. Over the years, women amass quite a serious earring collection!
​​We can go for the sparkly, with diamonds or colourful gemstones. We can also go for the more subtle gold hoops, drop earrings, danglers, and sui dhaga earrings because they can all be perfect for parties, whether we are going for an edgy look or cool sophistication. 
However, you may need to consider a few factors when you are choosing earrings for any event. We will explore those factors and the different types of earrings available to add to your glam quotient.
What you wear
Consider your outfit. If you're wearing a dress with a lot of colours, you may want to go for more subtle earrings, like the Floret Mesh Gold Drop Earrings in rose gold or the Saffron Petal Diamond Drop Earrings in rose gold with diamonds. On the other hand, if you are wearing a single colour, earrings like the Swirl Pearl Drop Earrings would be a perfect match.
Take a look at the neckline of your outfit. You can wear a V-neck, Scoop neck, Boat neck, or a High neck to a party. You will have to choose earrings that will go with any of these necklines. But the thing is, whatever you choose will be right for you. If you are wearing your hair up, drop earrings will look striking. You can wear the Elysia Diamond Drop Earrings or the Tassel Dazzle Diamond Drop Earrings, which will be excellent for party wear.
How you wear your hair
Girls like to wear their hair in different trending styles and will choose earrings that can be shown off based on their hairdo. You can wear brilliant gemstone stud earrings whether your hair is up in a chignon or flowing over your shoulders. For example, the Rory Diamond Stud Earrings in rose gold will make you stand out at a party, small or large. Earrings like these will go with any outfit you wear. A simple bracelet completes the ensemble and makes you feel like a star. 
Five must-have earrings for party wear
Every girl must have at least five different earrings in her collection that are suitable for parties.
Stud earrings
Stud earrings with pearls are a must-have. The Streak Pearl Stud Earrings will give you a sophisticated look most suitable for an office party. Pearls always express elegance and grace, and studs that have both pearls and diamonds can only mean classic.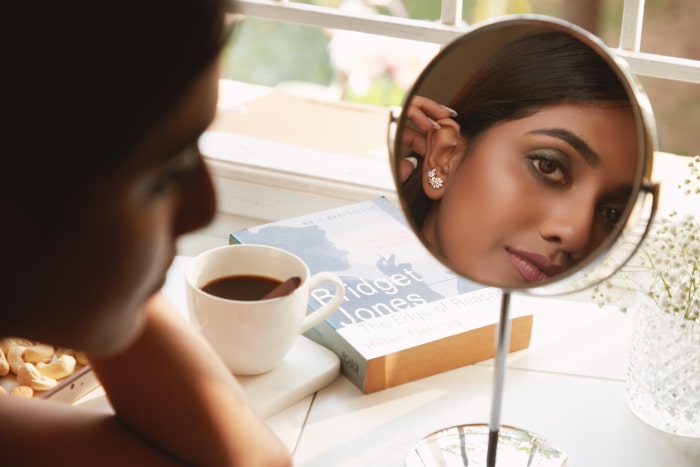 Drop earrings
Drop earrings like the Poppy Petals Diamond Drop Earrings are great for an office party or a fun evening with your girlfriends. They are affordable and have a simple design made in yellow gold with just four diamonds to dazzle the eye.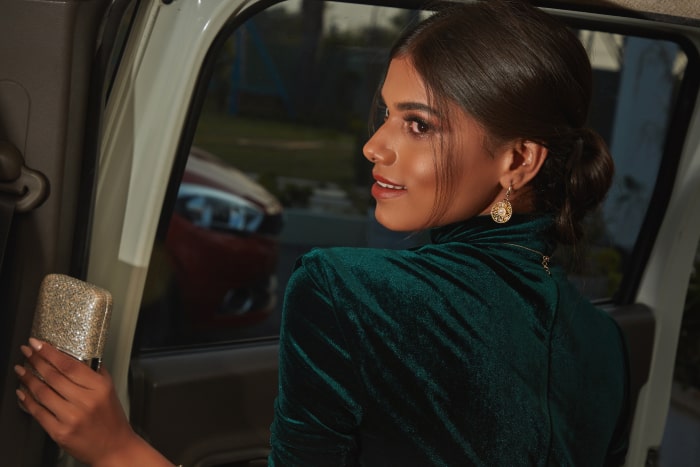 Hoop earrings
Hoop earrings come in different sizes and in plain gold or with diamonds and gemstones. While you may choose the small gold hoops like the Melody Diamond Hoop Earrings for daily wear, you will definitely want to have the Elke Gemstone Hoop Earrings for a special party.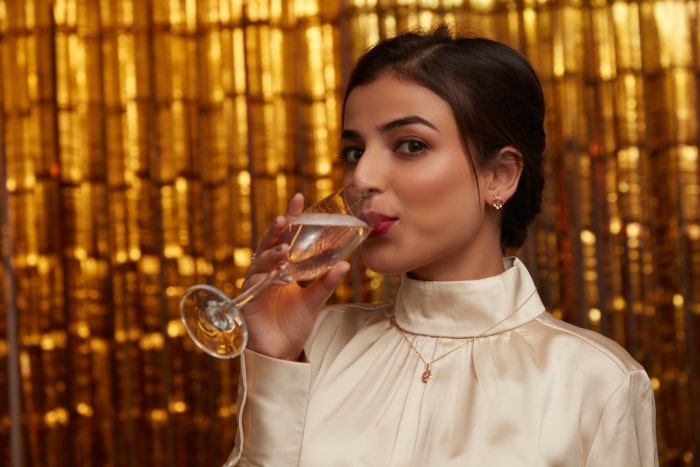 Sui Dhaga
Sui Dhaga can be a perfect combination of stud earrings and drop earrings. You get to have two-in-one with earrings like the Iris Diamond Sui Dhaga Earrings. They are neither too elaborate that you can wear them to a tea party nor too much like your everyday wear. They can add pizzazz to any outfit you wear, ethnic or western. At least one pair of Sui Dhaga earrings would be good to keep in your collection.
Chand Bali
Chand Bali earrings like the Mila Laced Gold Chand Bali have a unique design that looks good for a party. These earrings go well with any outfit, in pastel or bold colours, and the advantage is that these will go well with ethnic or western wear. 
Whatever the choice, party wear earrings are a must in every girl's jewellery collection. And CaratLane offers you as many choices as you want to look at, and you get to pick the ones that appeal to you the most. The next party is just around the corner. So, don't wait any longer!