What's a princess without some diamonds to match? Experience your own 'royal' moment by stealing the style of these chic blue-blooded ladies!
Every little girl dreams of castles, Prince Charming and tiaras; a fantasy that remains her heart even as she grows up. While the chances that will you will be hobnobbing with the Queen of England anytime soon are slim, you can adorn yourself in the opulence of baubles favoured by our favourite real-life princesses. We look at five uber trendy modern-day royals and how to steal their diamond style.
Kate Middleton, Duchess of Cambridge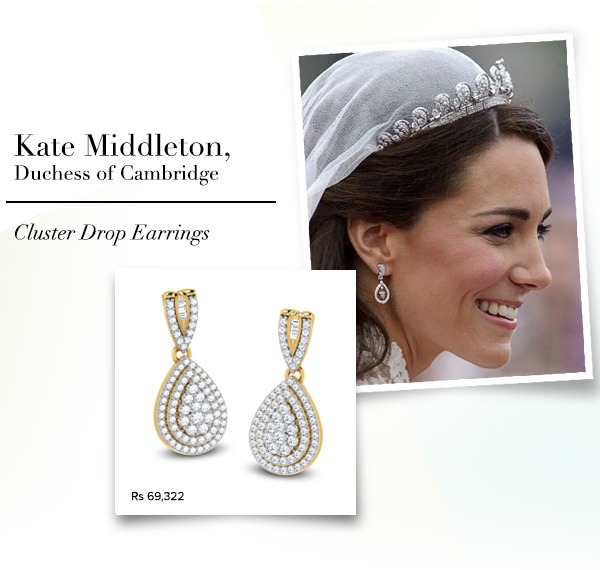 Suave and sophisticated, one half of the world's most loved royal couple, the Duchess has set quite a few fashion milestones. When it comes to jewellery it is minimalism all the way! No loud attention drawers here. She's British, remember?
CaratLane pick:
Get
these sweet cluster drop earrings
from Carat Lane that are just like the ones Middleton wore on her wedding day.
Princess Diya Kumari of Jaipur and Parliament Member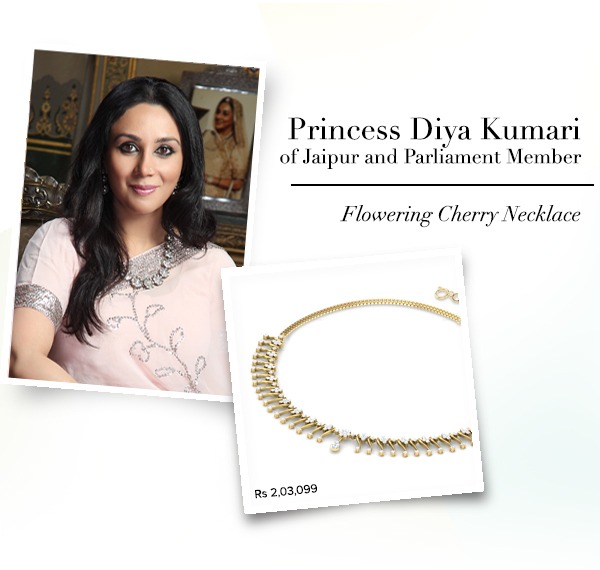 This active philanthropist, politician and patron of the arts knows a thing or two about luxury, culture and fashion. Having been personally groomed by her grandmother and style icon Rajmata Maharani Gayatri Devi, we aren't surprised to see the same love for craftsmanship and timeless decadence in the princess' style. She often pairs her chiffon saris with classic diamond and
gold necklace models
featuring intricate detailing.
CaratLane pick:
Our gorgeous
Anthrium Necklace
is one she would approve of.
Queen Raina of Jordan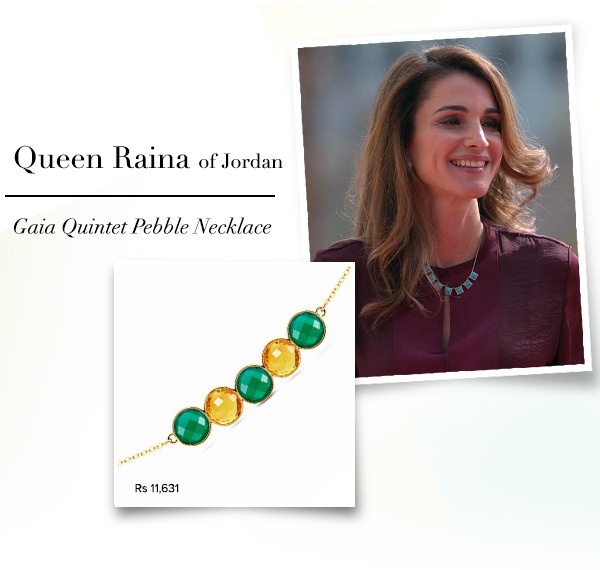 Known as the 'Jackie O of the Middle East', Queen Raina is often seen in fun and vibrant pieces that are not typically very monarchical. Case in point is the cute colourful necklace she wore over a well-fitted burgundy shirt.
CaratLane pick:
Find its match in our
Gaia Quintet Pebble Necklace
and channel her repertoire.
Princess Salwa Aga Khan, Jordan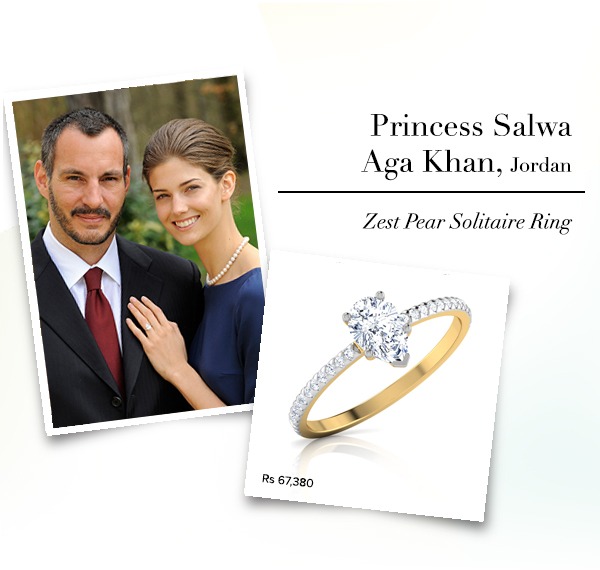 This one is right out of the storybooks. Erstwhile Kendra Spears, an American supermodel, she is now Princess Salwa Khan of the Jordan royal family. Needless to say the young mother and striking beauty prefers her diamonds, bold and big. One look at her
wedding ring
and you'll be swooning for days to come.
CaratLane pick:
Our
Zest Pear Solitaire Ring
will make you too feel like a royal bride married to a handsome prince from an exotic land.
Princess Madeline, Sweden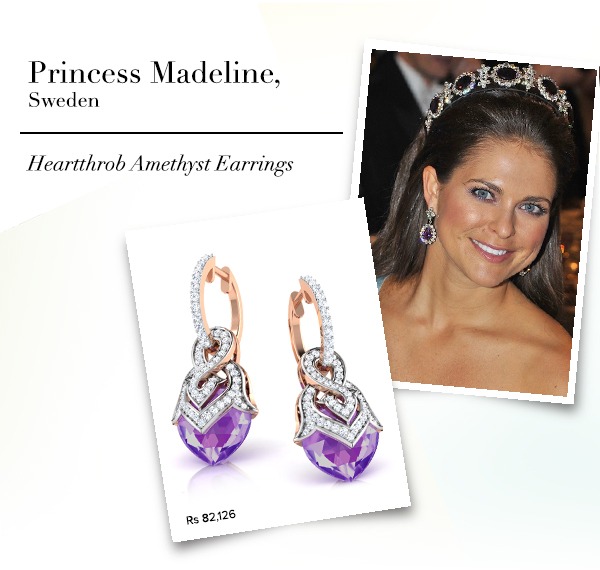 Youngest child and daughter of the king and queen of Sweden, Princess Madeline loves to keep it modern chic with her large totes and skinny jeans but can pull of a crystal tiara with equal ease. Those sparkling blue eyes only help her case. She has an enviable collection of stunning earrings and this regal diamond studded pair caught our attention instantly.
CaratLane pick:
Our
'Heartthrob' Amethyst Earrings
will let you soak in some royal splendour.
So which princess' style will you channel?