We know that through history and literature,
Diamonds
have been steadfast symbols of love and passion. But both in metaphor and reality, diamonds have also been seen as the ultimate symbol of triumph, of having attained the pinnacle of success. And if you thought the allure of diamonds would fade with wealth, you would be mistaken – The richest of the world have often only transformed their awe and desire for the stones into a serious passion. Let us look at some leading ladies form Hollywood and their raging affairs with diamonds: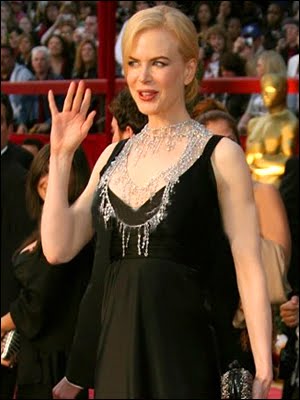 Nicole Kidman who has starred in hits such as
Moulin Rouge
and
The Golden Compass
, is completely enamored by diamonds. In this picture from the Oscar Awards Red Carpet event from 2008, she is seen sporting a sautoir
*
necklace set with over 7000 diamonds, adding up to roughly 1400 carats!
*
– A sautoir necklace is a flowing, dramatic necklace with loose-hanging strands of beads or precious stones. The style is inspired by the fashions of the 1920s.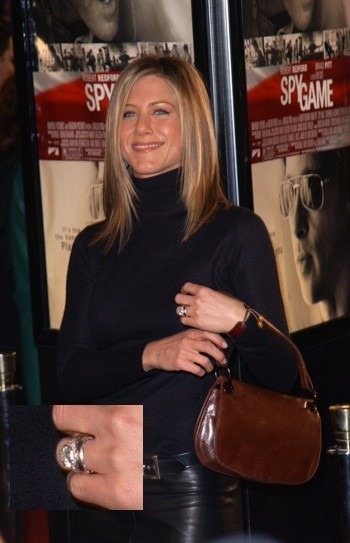 Who would have guessed it? Friendly girl-next-door Rachel from Friends has a secret fetish! Actress Jennifer Aniston has long loved diamonds. The stunning $500,000 diamond ring she is seen wearing in this picture was co-designed by Brad Pitt himself, before the two split up. But that won't be the only diamond Jen wears- she is often seen flaunting an assortment of diamond jewellery that is equally gorgeous.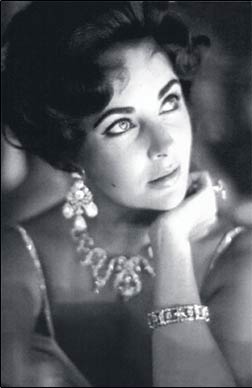 Obviously, you cannot talk about celebrity diamond-lovers without mentioning the most glamorous of them all – Elizabeth Taylor, yesteryear queen of Hollywood. If other celebrities are big fans of diamonds, Liz is a true connoisseur. Her collection is vast, estimated to run into several thousands of carats, and features many legendary pieces. Take for instance the Krupp Diamond (named after the Krupp family from Germany, to whom it once belonged), a 33.19 carat emerald-cut diamond that was bought in a Sotheby's auction for Liz by her husband Richard Burton. Burton also gifted her a 69.42 carat pear-shaped diamond that came to be known as the Taylor-Burton Diamond. Liz also owns a beautiful 50 carat pearl called La Peregrina, a Valentine's to her, which once belonged to Mary I, the 16th century Queen of England! Liz Taylor's list of jewellery simply goes on and on. We recommend that you read her 2002 book My love affair with jewelry, not only to learn about her collection, but also to gain insight into how celebrities romance the stone.
In the coming months, we'll constantly bring famous celebrity diamond stories to you. Keep reading!