Think the only thing the shape of your diamonds say is how much moolah you splurged on it? Wrong! If you are what you wear, then your diamond choices do provide a glimpse into your personality.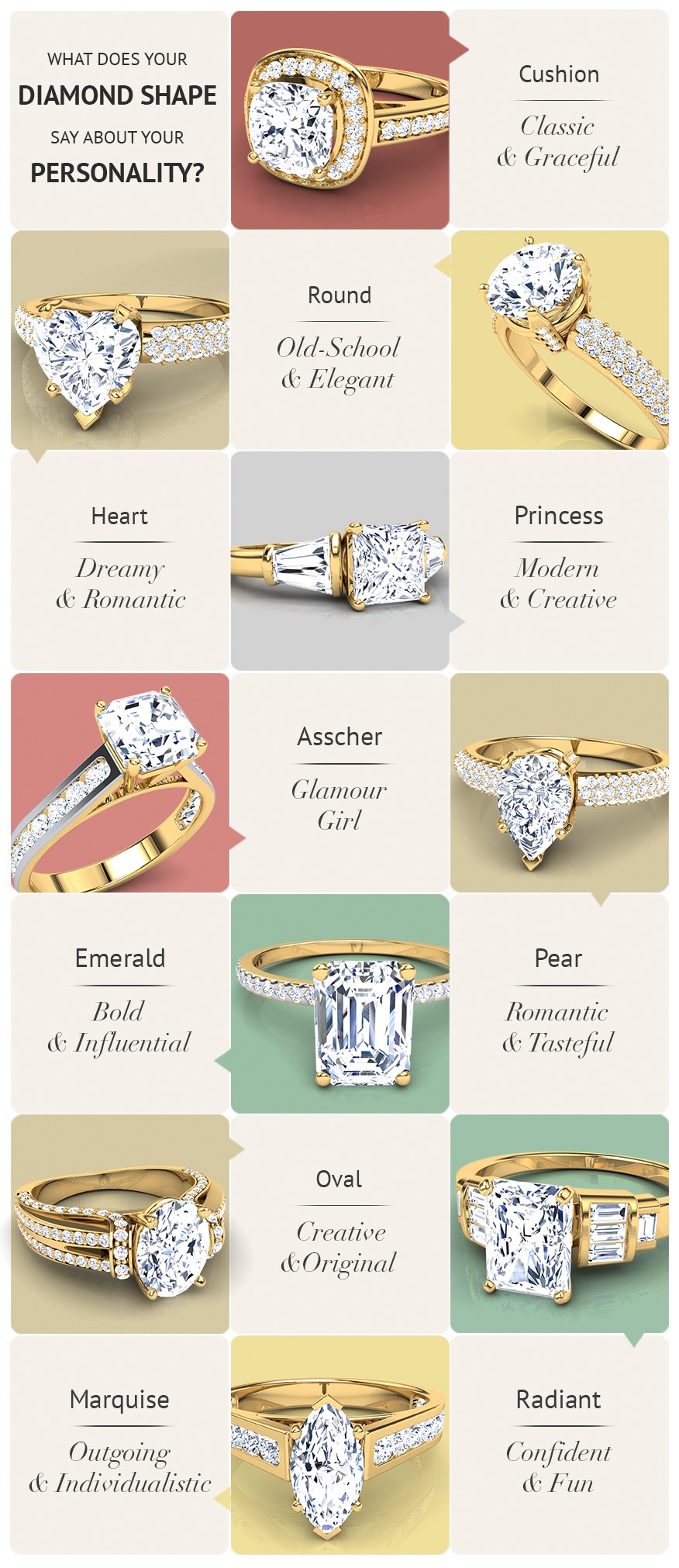 Each shape has a story behind, in turn highlighting the quality of the wearer—though only visible to a nuanced eye! So read on to find out what message you are sending out with the choice of your diamonds.
Round Diamond
A
round-shaped diamond
is most well known for its sparkle, versatility and timelessness. A woman who prefers this shape is quintessentially elegant and loves all things traditional. She is old-school in her choices and has a sentimental quality about her. She is generally of a warm nature and exudes poise and charm.
Emerald Diamond
With its architectural and unique shape, women who are of a bold and strong disposition favour the
emerald-cut diamond
. Not ones to follow the herd, they are courageous enough to make their own choices. It's also a shape often preferred by leaders and those with an influential personality.
Asscher Diamond
The
asscher cut
, which is reminiscent of the decadent '20s era, is the choice of woman who still prefer to live that fabulously indulgent lifestyle. This vintage-loving lady is the epitome of glamour—and we don't just mean her clothing choices. You'll spot her the best parties, at the it-holiday destinations or hottest new restaurant in town.
Pear Diamond
Shaped delicately like a teardrop yet packing oodles of oomph and shine is the
pear shaped diamond
. Women who steer towards it are lovestruck and fanciful at hear. They are connoisseurs of all things beautiful and are ones who lead an uncluttered, uncomplicated life. Drama is not their cup of tea!
Princess Diamond
A
princess cut
is often the top choice of women who are modern, trendy and lively. These ladies are passionate, driven, ambitious and work unrelentingly towards achieving their goals. While they respect traditions, they don't like to be bogged down by them.
Radiant Diamond
A
radiant diamond
is the product of a fusion between a cushion and a princess cut diamond and is extremely rare to find. That in itself, says a lot about the personality of the wearer. This girl is confident to a fault, extremely independent and knows how to stand out in a crowd. She is all about YOLO!
Heart Diamond
No surprises that this is a woman who wears her heart on her sleeve, or shall we say finger!  She is a hopeless romantic—one who's got her head in the clouds and her nose buried in a love story. She pines for Mr. Darcy and is always up for a good 'ol rom-com!
Oval Diamond
Super striking and high in brilliance, an oval shaped diamond is great for giving your fingers a slimming effect. Women drawn to the gorgeous oval shaped tend to be bold, creative and one-of-a-kind. They are inventive and creative, often with a sharp mind and individualistic nature.
Cushion Diamond
A cushion diamond with its soft square cut and rounded corners, is all about subtle femininity. Hence the women who wear it are captivating, classic and chic. They are always charming and do all things with grace—whether its heading a venture, seeing off their kids to school or stepping out for a lunch with their friends!
Marquise Diamond
Shaped almost like a football, nothing is more eye-catching than a stunning marquise diamond. So it is only logical that the women who wear it are always the belle of the ball too! We are talking confident, outgoing women, with a mind of their own and unique standout personalities. Ring a bell? Want to know more about
diamonds shapes
& everything to do with diamonds? You can call up our diamonds experts @ 1800-102-0103 or register for a
FREE DIAMOND CONSULTATION HERE