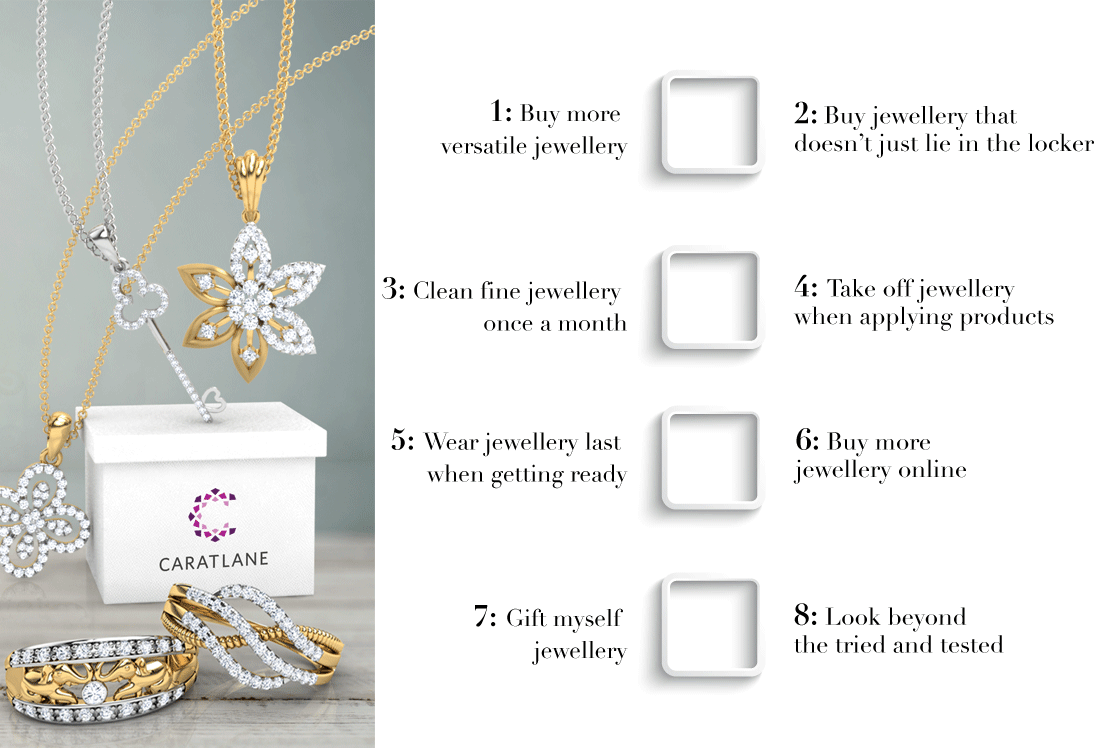 30 Dec

8 Jewellery Resolutions for 2016

Ones worth sticking to.

We've all been through it before—the new year rolls around, we make feverish resolutions and vow that we'll stick to them for the next 365 days—but that doesn't really end up happening, does it?!

Instead of going back to the same resolutions of yore, it's time to concentrate on things we often ignore, like our jewellery! Here's our list of jewellery resolutions for 2016. Feel free to adopt them as your own!

Resolution #1: Buy more investment pieces

Buy more antique jewellery, vintage jewellery, gold jewellery, and natural pearls to fulfil your jewellery cravings as well as get a welcome return. Make your jewellery more than just an expensive indulgence this year!

Resolution #2: Buy jewellery that doesn't just lie in the locker

At the same time, buying investment pieces doesn't mean they have to only rest in your locker for years! Pick more wearable pieces. After all, jewellery is meant to be worn, not hidden in storage!

Resolution #3: Clean fine jewellery once a month

It's easy to forget that fine jewellery needs regular cleaning to stay bright and shiny. Take time out at least once a month to clean diamonds, silver, and gold so that they look as good as new!

Resolution #4: Take off jewellery when applying products

Body butters, lotions, and creams make jewellery dull as they collect on the surface and little crevices in your trinkets. Small actions like removing your jewellery before applying products on your skin can make your jewellery last longer.

Resolution #5: Wear jewellery last when getting ready

Similarly, put on those earrings and necklaces on last when you're getting ready for a night out. This prevents corrosion of your baubles by perfumes and makeup.

Resolution #6: Buy more jewellery online

We buy almost everything online, so 2016 is the time to include fine jewellery as well! Not only do you get great deals, but also get to see so many cool new designs as well as full disclosure on jewellery details. Something we at CaratLane abide by!

Resolution #7: Gift myself jewellery

Why wait for somebody else to gift you jewellery? Go ahead and buy yourself those pieces you've been eyeing for a while and indulge yourself.

Resolution #8: Look beyond the tried and tested

While we all have our personal style, it's important to try out new types of jewellery every once in a while. Look around you for trends and inspiration, and make some unexpected choices to look splendid and refreshing this New Year!

So what are your jewellery resolutions for the New Year?